Inflammatory Bowel Disease (IBD) Education CROHN'S DISEASE AND ULCERATIVE COLITIS (UC) SUFFERERS:
It's time to listen to your gut
You probably have plenty of questions about your IBD. Like, what's really going on inside your gut? Here at Living with IBD, you'll find the information your gut is asking for, including ways to proactively manage your disease.
Learn about UC & Crohn's
Where are you in your IBD journey?
Get to know IBD
There are two main types of inflammatory bowel diseases, or IBD. Both are chronic diseases that cause inflammation in your digestive tract.
Crohn's Disease
Crohn's disease can cause inflammation in any part of the gastrointestinal (GI) tract, although it might only affect certain areas for some people. Crohn's inflammation can involve the entire thickness of the intestinal wall.
Learn about Crohn's
Crohn's Disease
Crohn's disease (CD) inflammation
Ulcerative Colitis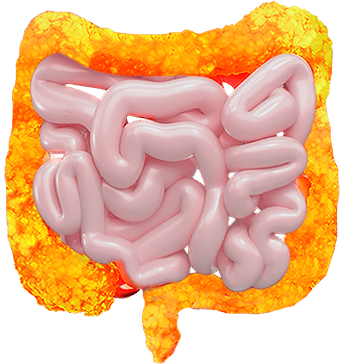 Ulcerative colitis (UC) inflammation
Ulcerative Colitis
Unlike Crohn's disease, the effects of ulcerative colitis (UC) are limited to the large intestine, and inflammation only occurs in the innermost lining of the intestine.
Learn about UC
Want help talking to your doctor?
You and your care team are on the same side, and these tips can help ensure you're on the same page.
GET CONVERSATION TIPS
Get your IBD Starter Guide
Our Starter Guide is packed with helpful resources and information to help you figure out your next steps.
DOWNLOAD NOW