For people living with IBD, finding trustworthy information isn't always easy. That's why we've put together this growing library of resources that can help you better understand your disease and how it fits into your life. Select a topic below to start exploring.
IBD 101
Looking for easy-to-understand info? Start here to get the lowdown on IBD.
MENTAL HEALTH & WELLNESS
Explore resources that could help put your mind at ease.
DIET & NUTRITION
Got questions about your diet? Here's some information about what should go in your gut.
YOU & YOUR DOCTOR
Your doctor is your co-pilot, so here's some help making sure you're on the right track together.
FINANCIAL SUPPORT
Navigating the costs of IBD can be a challenge. These resources can help simplify things.
IBD COMMUNITY
The IBD community is just waiting to help you. See what organizations are out there!
IBD & COVID-19
If you're worried about Covid-19, you're not alone. Get the facts here.
IBD & PREGNANCY
Here are some resources to help you make a plan for family planning.
Understanding Your IBD
So, what's really going on inside your body? Get the inside scoop from our Understanding Your IBD page.
LEARN MORE ABOUT IBD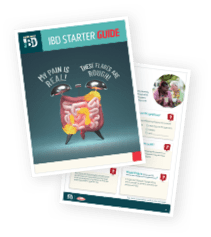 IBD Starter Guide
After getting diagnosed, it's important to learn more about your disease. Sign up to get a free IBD Starter Guide delivered right to your inbox.
get your GUIDE
Other IBD 101 Resources
*CDPATH defines serious complications for patients with Crohn's disease as any fistulas or strictures in your bowels or any surgery in your bowels other than the area in or around the anus.
Mental Health and Wellness
Check in on your Mental Health
Learn about how your mental health can be impacted by IBD (and vice versa) with this article from the Crohn's and Colitis Foundation.
LEARN MORE
Get Mental Health Tips
These tips can help you better manage your mental health when living with IBD.
GET MENTAL HEALTH INFO
Managing Your IBD
IBD happens in your gut, so it should be no surprise that certain foods can impact your personal experience.
Our Managing Your IBD page has information on foods you may want to avoid and other nutrition tips.
GET NUTRITION TIPS
Other Diet and Nutrition Resources
Talking to Your Doctor
Explaining everything that's going on inside your body to your doctor isn't easy. Our tips can help make it a little easier.
GET DISCUSSION HELP
Dive Even Deeper into LIFE WITH IBD
Now that you're up to speed on IBD, here are some additional resources we think you'll find helpful, including financial and community support.
Get connected with the
IBD Community
Patient Ambassador Program
This program was designed with you in mind. A team member will help you learn how to manage and navigate your IBD.
---
Living with IBD Podcast Series
Hear how other people with IBD live their lives in this podcast series. The episodes range from discussion about IBD and diagnosis to disease management, and even sensitive topics such as IBD in the bedroom.
Click on your favorite podcast app below to start listening now, and keep an eye out for more episodes coming soon!
---
Other IBD Community Resources
The Crohn's and Colitis Foundation has tips for building your own supportive community.
IBD Support and Advocacy Groups
These organizations are focused on helping people like you find the support and
resources they need, and can help connect you with the wider IBD community.
Additional Organizations
IBD and Pregnancy
This fact sheet from the Crohn's and Colitis Foundation can help you understand what to expect when planning for a family.
---
Get a deep dive into topics such as fertility, genetics, and breastfeeding when living with IBD from UpToDate.
---
IBDMoms is a safe space for mothers with IBD to share their experiences with each other.
The content on this page has been written and approved by Takeda. LAST UPDATED/REVIEWED ON DECEMBER 2022